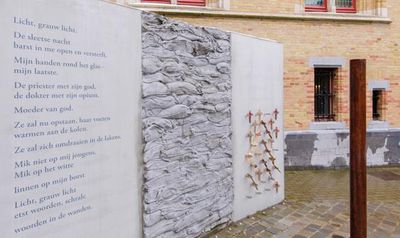 Copyright: Creative Commons
If the main gate is closed, you can reach the courtyard through the door to the side of the gate.
It was on this spot that at least four soldiers of the British Commonwealth were 'shot at dawn'. The execution post is not the original one.
You could be executed if you were suspected of 'cowardice in the face of the enemy'. The executions were mainly intended as an example to the other troops, and its message was clear: if you do not keep fighting, this might happen to you.

Some of those executed displayed symptoms of shell-shock, so that they were no longer fit for service in the trenches. But the courts martial did not always take this into account. Research has shown that there was also more chance of getting a lighter sentence if you were well-educated and had not caused trouble in the past.
360 Commonwealth soldiers were executed for cowardice. Somewhere between 350 and 700 Frenchmen suffered the same fate, as did more than 700 Italians. The Germans abolished the death penalty after 40 executions; the Belgians after just 12.
In the town hall there are also four prison cells, where the convicted men were held during the night before they were shot.
Copyright: Creative Commons
Address
Guido Gezellestraat 1, Poperinge
More about this place of interest
Try this feature for free with a RouteYou Plus trial subscription.