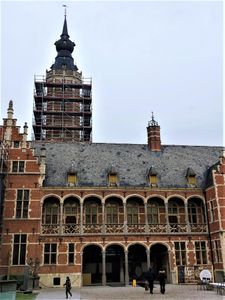 Source: Willem Vandenameele
This large and beautiful Renaissance palace is located in Mechelen, then the capital of the Burgundian Netherlands.
Mechelen flourished when the city was the de facto capital of Burgundy and Margaret of Austria stayed there at the Savoy court . Hieronymus van Busleyden (ca. 1470-1517), who lived in this city palace, was a member of the Great Council of Mechelen , diplomat, humanist, patron and collector.
The Hof van Busleyden was the seat of the Mechelse Berg van Mercy for three centuries. It is a constructive complex that took its definitive form in the 17th century and consisted of several buildings of the previous century. According to research in the early 21st century, Busleyden House is only part of what is now the museum, the entrance hall is now there. The original decorations and decorations were almost completely destroyed in the 1914 fire. The City Palace was almost entirely rebuilt in the 1930s and reopened in 2018 as the Hof van Busleyden Museum .
The museum has seven enclosed courtyards , an expression of 16th-century devotion. A closed hofje or beloken hofje is the name of a type of carved altarpiece consisting of a flat wooden box containing a number of carved figures and decorative and devotional items depicting a religious image and framed in a garden.
Mechelen had a flourishing artistic production . Artists such as Conrad Meit, Jan Gossart, Gerard Horenbout and Margaretha's court painter Bernard van Orley were drawn to the fame of the Savoy court. The carvers ensured that the Mechelen poupées – polychrome wooden statuettes – found their place in closed courtyards from the mid-15th to mid-16th centuries and were marketed as a sought-after export product in Spain, India, the Philippines and South America.
The Jef Denyn Carillon School in Mechelen has also found refuge in the Hof van Busleyden. The practice carillon (weighing 2541 kg) of this institute is located in the upper room of the Renaissance tower. The 49 bells based on c2 (420 kg) were built in 1953 by Marcel Michiels jr. issued. from Tournai. The game is primarily played by carillon students who can practice it.
Source: Willem Vandenameele - Wikipedia
More about this place of interest
This place of interest on your website

<iframe src="https://plugin.routeyou.com/poiviewer/free/?language=en&amp;params.poi.id=8424940" width="100%" height="600" frameborder="0" allowfullscreen></iframe>

Try this feature for free with a RouteYou Plus trial subscription.