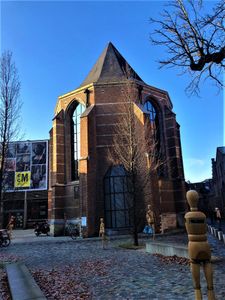 Source: Willem Vandenameele
This is the church of an impressive monastery complex.
The monastery church is a simple late Gothic building from 1606-1610, which was rebuilt in the 18th century. Mainly built of brick and sandstone, partly on a sloping sandstone base. The complex unfolds a pseudo-basilica with three naves.
The entire monastery consisted of a courtyard with church and turret, attached cloister and chapter house and courtyard. To the southwest and adjacent to the melaan are elongated guesthouses and an infirmary with an apothecary .
The first monastery church (1231) was a simple hall church, but in 1304 a new church was added. After the monastery buildings were destroyed and plundered , a new church was built and consecrated in 1610
Thanks to the intervention of the city and the population , the church was repeatedly richly endowed , that is to say with marble tombs , including that of Margarita de York (1503); important figures by Lucas Fayd'herbe, with sculptures by P. Langhemans (17th century), with paintings by Antoon van Dijck, etc. The church today has been deprived of its ancient decoration.
In 1796 the order was expelled; the chapel was demolished; The monastery and church served as barracks and hay stores . For this purpose, the church was rebuilt several times during the 19th century. In 1863 a new monastery of Friars Minor was founded on the site of the former monastery of the Discalced Carmelites in Karmelietenstraat .
The old buildings of the Convent of Friars Minor were demolished in the 1950s for the construction of the Major Antoon Spinoy Cultural Center.
It currently includes an academy of fine arts , a new conservatory , and the same cultural center with an auditorium and exhibition spaces.
More about this place of interest
This place of interest on your website

<iframe src="https://plugin.routeyou.com/poiviewer/free/?language=en&amp;params.poi.id=8425125" width="100%" height="600" frameborder="0" allowfullscreen></iframe>

Try this feature for free with a RouteYou Plus trial subscription.