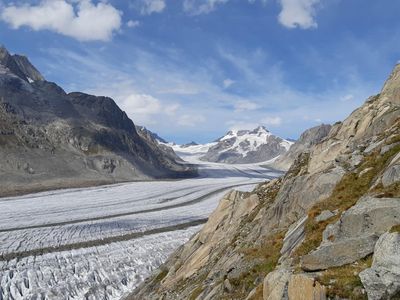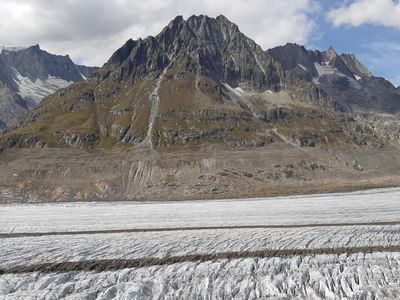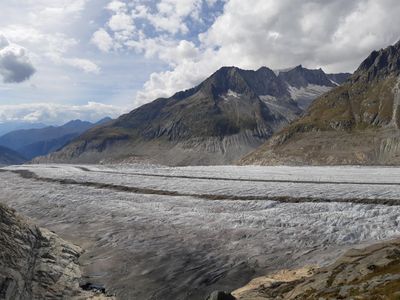 The Great Aletsch Glacier is an exceptional sight. From one of the vantage points you realize the size and uniqueness of the Great Aletsch Glacier. Since three large firn fields converge at the top, the glacier has two central moraines. These are shown as dark lines running the length of the ice flow. The power and volume of the enormous glacier, which stretches for 23 km from the Jungfrau region (4000 m) to the Massa Gorge (1300 m), is unimaginable.
The Great Aletsch Glacier has shaped the landscape over thousands of years. During the last ice age (about 18,000 years ago) the ice still covered the ridges between the Bettmerhorn and Riederhorn, only the tops of these mountains were ice-free. While the ice-covered area seems to have been shaped by the movement of the glaciers at the time, the Bettmerhorn and Eggishorn have rugged shapes. The growth and decline of the Great Aletsch Glacier can also be seen in the eastern Aletschwald. About 11,000 years ago, the ice giant's tongue was in the Rhone Valley and its edge reached almost to the Riederfurka. The longest glacier in the Alps was about 3 km longer around 1860 than it is today.
More about this place of interest
This place of interest on your website

<iframe src="https://plugin.routeyou.com/poiviewer/free/?language=en&amp;params.poi.id=7495336" width="100%" height="600" frameborder="0" allowfullscreen></iframe>

Try this feature for free with a RouteYou Plus trial subscription.