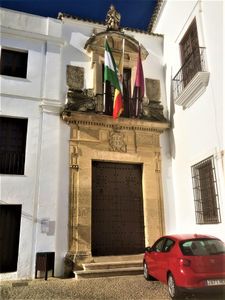 Source: Willem Vandenameele
Arcs de la Frontera Town Hall is located in Plaça del Cabildo , next to the Ducal Castle and the small Basilica of Santa María de la Asunción, next to the Balcó de la Penya.
It moved to its present location in 1634 ( it was previously on Arenillas Street ).
The precious stone door is topped with the 17th-century archangel Sant Miquel , the patron saint of Arcos, carved in stone. Inside are the Mudejar ceiling of the meeting room, a painting of Charles IV attributed to the Goya school, paintings by Prieto, two large life-size portraits, one of Espartero and the other of Captain General Moreno del Villar d'Arco's views . Finally, a historical painting that the painter Joaquín Caballero donated to the Town Hall in 1866, depicting the deed of Alfonso XI. after the battle of Salado, who adorned three sons of the city with knights of the chapel.
The rooms on the upper floor are accessed by a double staircase that leads to a rectangular room with Mudejar-style tiles. Next is the plenary hall, also rectangular, with a covering of the same type and a luxurious Neo-Mudéjar decoration based on plaster, paint and carpentry. This entire set has completely disappeared in a recent fire, as has the coffered ceiling.
Attached to this room is the old chapel with a square plan and a semi-circular roof on pegs.
The whole complex was built in the first half of the 17th century with Mannerist forms and coffered panels in the Mudéjar tradition.
The neo-Mudéjar decoration of the plenary hall dates from the late 19th century.
More about this place of interest
This place of interest on your website

<iframe src="https://plugin.routeyou.com/poiviewer/free/?language=en&amp;params.poi.id=8425558" width="100%" height="600" frameborder="0" allowfullscreen></iframe>

Try this feature for free with a RouteYou Plus trial subscription.