Author: enginersoz

| | Public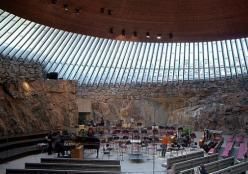 Modern Helsinki mimarisinin bir başarı öyküsüdür.Bir kayanın içerisine oyulmuş olan bu kilise Helsinki'nin en önemli yerlerinden ve en çok ziyaretçi alan noktalarından. Granit bir taban ve bakır bir tavanın arasını cam panaller birleştiriyor. Süsleme, Altar ve Çan kulesi yoktur. İbadete açık olduğu gibi aynı zamanda sık sık konserlerde veriliyor burada.500.000 yıllık ziyaretçisi vardır.  Pazartesi 10:00-17:00 arası pazar günü ise 11:45-13:45 arası açık.
.
More about this place of interest

<iframe src="https://plugin.routeyou.com/poiviewer/free/?language=en&amp;params.poi.id=734984" width="100%" height="600" frameborder="0" allowfullscreen></iframe>

Try this feature for free with a RouteYou Plus trial subscription.