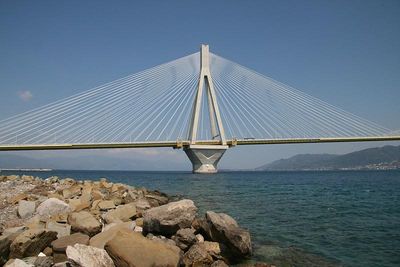 The Rion - Antirion bridge is a masterpiece of engineering. To build this bridge, engineers had to take into account the following challenges: The bridge must be able to resist massive earthquakes because the bridge is located in a highly seismic zone. The bridge passes one of the most active fault lines in Europe. The bridge can handle a earthquake of 7.4 on the Richter scale. In addition, the bridge had to be built on unstable sand and gravel. And the bridge was built in a natural wind tunnel that delivers very strong winds. On top of that, the two parts on both sides of the bridge slide away from eachother.
Source: National Geographic
More about this place of interest
Try this feature for free with a RouteYou Plus trial subscription.