Author: Dromos
| | Public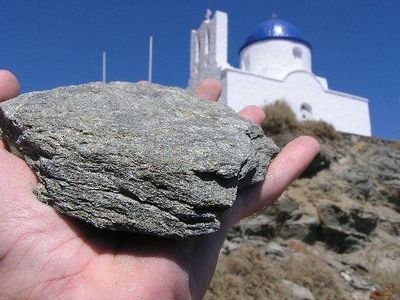 This spot is in the middle of the greenschist formation of Sifnos. The Greenschist area is located in the S-E of the island. It starts south and east of Apollonia. This is the more fertile of the two main lithological units. Don't expect lush agricultural cropland, but in comparison with the limestone area, this is thé cropland of the island. Greenschist facies is determined by the particular temperature and pressure conditions required to metamorphose basalt to form the typical greenschist facies minerals chlorite, actinolite, and albite. Greenschist facies results from low temperature, moderate pressure metamorphism. These rocks are linked to the subduction (or diving under) of the African plate under the Peloponnese. At a depth of more than 50km, the rocks were heated up to temperatures of higher than 500 degrees celcius under a high pressure. This type of of heat-pressure combination leads to changing the crystalline structure of the rocks. Greenchists are such a type of metamorphic rocks.
Address
Sifnos, Greece
More about this place of interest
This place of interest on your website

<iframe src="https://plugin.routeyou.com/poiviewer/free/?language=en&amp;params.poi.id=744219" width="100%" height="600" frameborder="0" allowfullscreen></iframe>

Try this feature for free with a RouteYou Plus trial subscription.