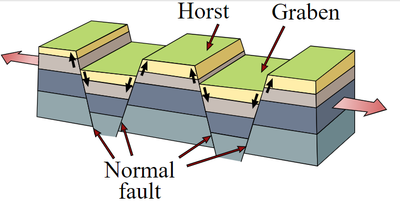 The Taygetus mountain range is a typical example of fault-block mountains. That type of orogony pevails on the islands and southern Greece due to a double set of crustal movements. On the one hand the Aegean Sea Plate is being raised by the subduction. On the other hand, north–south extensional movements, yet unexplained, are pulling the plate apart, creating normal extensional faults and generating a parallel sequence of horsts and grabens, or rift valleys, running in a north–south direction. Lifted type block mountains have two steep sides exposing both sides scarps, leading to the horst and graben terrain seen in various parts of Europe including the Upper Rhine valley, a graben between two horsts. Here you have the horst of the Taygetos mountains, the graben of the Messinian Gulf and the Kalamata Valley of Plain of Messinia, and again the horst of the Kyparissia mountains.  
More about this place of interest
This place of interest on your website

<iframe src="https://plugin.routeyou.com/poiviewer/free/?language=en&amp;params.poi.id=8190266" width="100%" height="600" frameborder="0" allowfullscreen></iframe>

Try this feature for free with a RouteYou Plus trial subscription.