Author: Pascal Brackman
| | Public | Dutch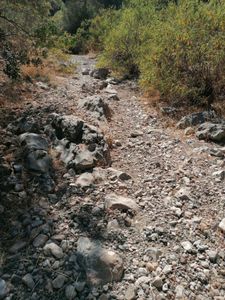 View of the riverbed in the canyon. This contains a sample of different types of rocks that are located higher up. Most of the riverbed consists of small pebbels and gravel that holds the water like a sponge. Even though you can't see the water on the surface here, the gravel in the riverbed still contains a lot of water. This makes it possible to still get a luxuriant vegetation here in the driest period of the year. Slightly downstream you will also find a pump where the groundwater is pumped up from the gravel layers to irrigate the fields below.
More about this place of interest

<iframe src="https://plugin.routeyou.com/poiviewer/free/?language=en&amp;params.poi.id=8188613" width="100%" height="600" frameborder="0" allowfullscreen></iframe>

Try this feature for free with a RouteYou Plus trial subscription.