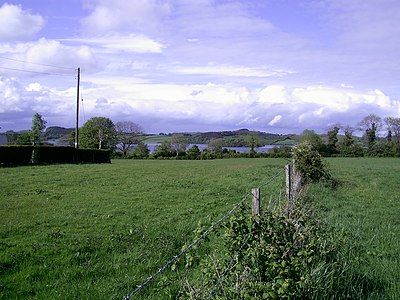 Source: Gavigan
Copyright: Creative Commons 3.0
Turgesius was a Viking chief active in Ireland during the 9th-century. Turgesius Island, the principal island on Lough Lene, is named after him. It is not at all clear whether the names in the Irish annals represent the Old Norse Thurgestr or Old Danish Thorgísl. John O'Donovan and Charles Haliday independently identified him with Ragnar Loðbrók, but the identification is not generally accepted.
The sole reliable record of Turgesius is a report of his death in the Annals of Ulster. In 845 he was captured by Máel Sechnaill mac Máele Ruanaid of Clann Cholmáin who was High King of Ireland. These reports state that Turgesius was drowned in Lough Owel. Less certainly, the Annals of the Four Masters associate Turgesius with attacks on Connacht, Mide and the church at Clonmacnoise in the year before his death. It has been speculated that Muslim poet and diplomat Yahya ibn al-Hakam al-Bakri al-Jayyani may have paid a visit to the court of this Norse ruler. After the attack of the Vikings on the coast of
al-Andalus in the year 844, he was sent north on a diplomatic mission.
Source: Wikipedia.org
Copyright: Creative Commons 3.0
Address
West Meath
More about this place of interest
Try this feature for free with a MyRouteYou Plus trial subscription.