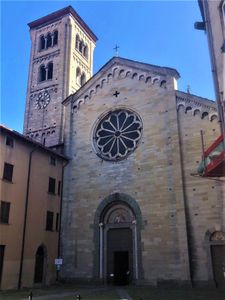 Source: Willem Vandenameele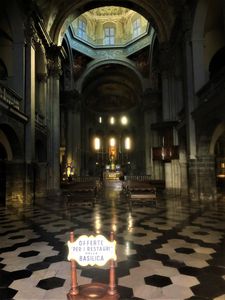 Source: Willem Vandenameele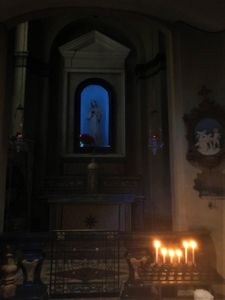 Source: Willem Vandenameele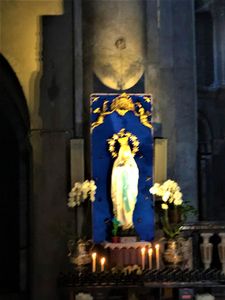 Source: Willem Vandenameele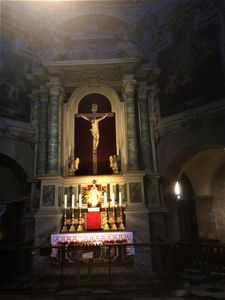 Source: Willem Vandenameele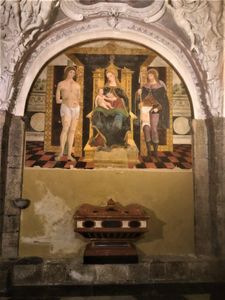 Source: Willem Vandenameele
The Basilica is located in the center of the city, in Piazza San Fedele, which used to be the main square for the corn market in Como. The Basilica was probably built in 1120 on the ruins of an earlier building. Construction was completed years later. Over the centuries, the building was radically modified. In the 17th century the main nave was given a barrel vault and the side naves were modified in the 16th century when some arches were closed and replaced by paintings and stucco. In 1805 the octagonal lantern was moved upstairs. The side chapels were built between 1807 and 1808. The church was also restored at the beginning of the 21st century, especially the facade and the tower clock. Some describe this as a Romanesque Revival church. It is well worth visiting the inside of the church to admire the many frescoes and sacred works of art.
In the Chapel of the Crucifix, there is an impressive marble altar containing the papier-mâché crucifix painted on the apse by Isidoro Bianchi in 1623. God the Father and the risen Christ dominate the center of three circles. In the first circle appear some saints (Orsola, Martha, Apollonia, Catherine, Agatha, Cecilia) accompanied by S. Petrus Martyr, and other saints. The second groups saints, bishops, and popes (Vincenzo, Lorenzo, Sebastian, Carlo Borromeo, Bernardus, and others). The third group consists of angels and archangels. Four paintings depicting scenes from the Passion painted by Carlo Innocenzo Carloni of Scaria complete the decoration of the chapel at the end of the south aisle.
At the end of the north aisle is the Chapel of the Purified Virgin, represented by a seventeenth-century statue in gilded wood. The bowl is painted with frescoes of the Assumption of the Virgin attributed to the painter Domenico Caresana and Francesco Carpano. On the sides of the altarpiece are four seventeenth-century frescoes depicting the Marriage of the Virgin, the Nativity, the Annunciation to the Shepherds and the Adoration of the Magi.
The first chapel on the right has different characteristics than the others. The ceiling is covered in Baroque stucco and on the wall is a triptych painted in 1504 by Giovanni Andrea De Magistris, depicting the Virgin and Child between Saints Sebastian and Rocco; below is an urn containing the remains (now venerated in the Church of "Jesus") of Sant'Amanzio, Bishop of Como.
Source: Willem Vandenameele
More about this place of interest

<iframe src="https://plugin.routeyou.com/poiviewer/free/?language=en&amp;params.poi.id=8283614" width="100%" height="600" frameborder="0" allowfullscreen></iframe>

Try this feature for free with a RouteYou Plus trial subscription.