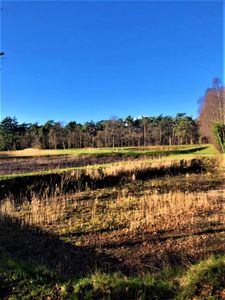 Source: WillemVandenameele
Field ponds used to be typical of the area. The hands , with their irregular shape, are probably the result of quarrying field stones to pave the road from Beernem to the reform school in Sint-Pietersveld.
They were created artificially for carp farming . This began as early as the second half of the 13th century , given the growing need for food due to population growth. But also the ecclesiastical regulations , which forbid the consumption of meat at different times (fasting etc.) , stimulated the consumption of fish.
Fish farming emerged in the cities, but due to water pollution , people had to move to the countryside. Freshwater fish, and especially carp , could survive up to a day out of water , allowing them to be kept fresh longer or relocated to other ponds. This limited the consumption of sea fish to the coastal region.
The heath had little agricultural value and was therefore ideal for building fishponds. Areas where peat or boulders had already been mined were certainly an option.
The breeding cycle lasted three years . In the first year, the female carp and male carp met in June-July in the first pond, which was about 60 cm deep and less than 5 ha in size. Carp breed only at a temperature above 19 degrees. In the second year, the small fish were transferred to the 1 to 10 ha large and up to 1.6 m deep growth pond . They grew up to 1 kg. By the third year they moved to the fat ponds, which were between 10 and 100 ha in size and depth . Here the fish grew up to 2 kg and was caught for sale from October to January.
However, with the recovery of the heath in the early 19th century, most of them have disappeared.
More about this place of interest
This place of interest on your website

<iframe src="https://plugin.routeyou.com/poiviewer/free/?language=en&amp;params.poi.id=8428926" width="100%" height="600" frameborder="0" allowfullscreen></iframe>

Try this feature for free with a RouteYou Plus trial subscription.