Author: Dromos

| | Public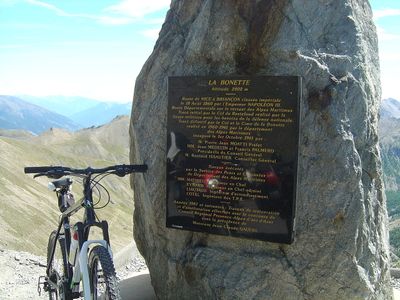 Col de Bonette is situated within the Mercantour National Park on the border of the departments of Alpes-Maritimes and Alpes-de-Haute-Provence. The road over the col is the seventh highest paved road in the Alps. A signpost at the foot of the climb makes the claim "Col de la Bonette - Restefond, 2802 m above sea level, highest road in Europe". This claim is incorrect for various reasons. The actual Col de la Bonette rises to 2,715 m, but there are three Alpine road passes whose altitudes are higher: Col de l'Iseran (2,770 m (9,090 ft)), Stelvio Pass (2,757 m (9,045 ft)) and Col Agnel (2,744 m (9,003 ft)). There is also the road to Veleta (Sierra Nevada), Spain (near Granada) which reaches 3,392 m (11,129 ft) but it is not a through road. The road around the Cime de la Bonette reaches an altitude of 2,802 m (9,193 ft), but this is not a "pass", but merely a scenic loop. It is, however, the highest asphalted road in France and is the highest through road in Europe.
Address
Jausiers, Provence-Alpes-Côte d'Azur, France
More about this place of interest
Try this feature for free with a RouteYou Plus trial subscription.