Author: Dromos
| | Public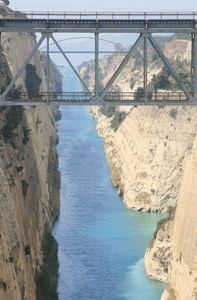 Copyright: All rights reserved
The Corinth Canal connects the Gulf of Corinth with the Saronic Gulf in the Aegean Sea. It cuts through the narrow Isthmus of Corinth and separates the Peloponnesian peninsula from the Greek mainland and therefore effectively making the former an island. The canal is 6.3 kilometre in length and was built between 1881 and 1893. Several rulers dreamt of cutting a canal through the Isthmus, including Nero and Napoleon. The canal was cut through heavily faulted sedimentary rock in an active seismic zone. Several times, the walls had to be stabilized. In the past, material fell into the canal and had to be cleaned to allow ships to pass.
More about this place of interest
Try this feature for free with a RouteYou Plus trial subscription.