Περιφερειακή Ενότητα Κεφαλληνίας
Author: RouteYou |
| | Public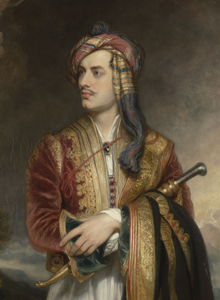 On 16 July 1823, Lord Byron left Genoa, arriving here at Kefalonia on 4 August. He was on his way to the Greek mainland to jojn the battle against the Ottoman Empire occupyuing Greece. Byron initially stayed on the island of Kefalonia, where he was besieged by agents of the rival Greek groups, all of whom wanted to recruit Byron to their own cause. The Ionian islands, of which Kefalonia is one, were under British rule until 1864. Byron spent £4,000 of his own money to refit the Greek fleet. When Byron travelled to the mainland of Greece on the night of 28 December 1823, Byron's ship was surprised by an Ottoman warship, which did not attack his ship as the Ottoman captain mistook Byron's boat for a fireship. To avoid the Ottoman Navy, which he encountered several times on his voyage, Byron was forced to take a roundabout route and only reached Missolonghi on 5 January 1824.
More about this place of interest

<iframe src="https://plugin.routeyou.com/poiviewer/free/?language=en&amp;params.poi.id=8190037" width="100%" height="600" frameborder="0" allowfullscreen></iframe>

Try this feature for free with a RouteYou Plus trial subscription.