Author: Dromos
| | Public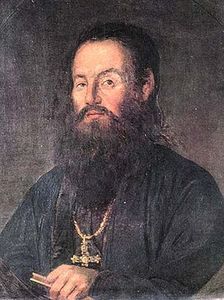 Anthimos Gazis was born in Milies (Thessalia) in Ottoman Greece in 1758 and died in 1828. He was a Greek scholar, philosopher during the Greek Enlightenment, cartographer and one of the heroes of the Greek War of Independence against the Ottoman Empire. He His real name was Anastasios Gazalis. Gazis published in 1800 Vienna a map of Greece and the Balkans called Pinax Geographikos tes Hellados. It is a reduced edition of the famous map of Rigas Feraios (the Charta of Greece). He edited also a worldmap called Atlas e Chartes owned today by the National Library of Australia. In 1821, he was the main figure of the Insurrection of Thessalia against the Ottomans; after the rapid defeat of the insurgents in Thessalia and the invasion of the Pelion by Mahmud Dramali Pasha in the summer, he had to flee to the Sporades islands. He was a member of the Areopagus of Eastern Continental Greece from November 1821.
Address
Milies, Greece
More about this place of interest

<iframe src="https://plugin.routeyou.com/poiviewer/free/?language=en&amp;params.poi.id=2616344" width="100%" height="600" frameborder="0" allowfullscreen></iframe>

Try this feature for free with a RouteYou Plus trial subscription.