Author: Dromos
| | Public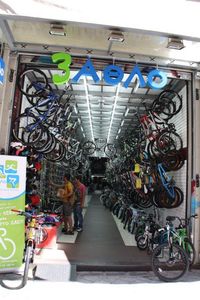 A new trend I noticed since 2011-2013 is the increase in bicycle shops in Athens. There is even a bog on in the Flea Market. Before there we bicycle shops, but in general bicycles were considered as a toy for kids. That is changing now rapidly. The roads are still very unsafe to cycle in Greece but you see on many places already efforts to design cycling paths along the roads. Most of the time still in the richer areas of and around Athens, rather than in the poor area. So I'm not so sure the cycling hype is ciris related or more trend related linked to the expat-Greeks coming home and bringing that habit with them.
Address
Ifestou, Athens, Greece
More about this place of interest

<iframe src="https://plugin.routeyou.com/poiviewer/free/?language=en&amp;params.poi.id=1262771" width="100%" height="600" frameborder="0" allowfullscreen></iframe>

Try this feature for free with a RouteYou Plus trial subscription.