Περιφερειακή Ενότητα Μεσσηνίας
Author: Dromos |
| | Public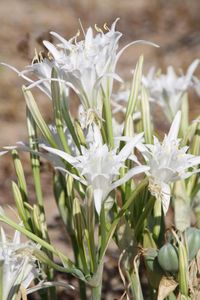 At this spot you can see the rare sea daffodil or Pancratium maritimum. At many places it is threatened with extinction. It is a bulbous perennial with a long neck and glaucous, broadly linear leaves, evergreen, but the leaves often die back during hot summers. The flowers have a pleasing, exotic and very subtle lily scent, which only becomes apparent during still, windless summer nights that allow the delicate fragrance to become perceptible. Flowering is from August to October.
Address
Petrochori, Messinia, Greece
More about this place of interest

<iframe src="https://plugin.routeyou.com/poiviewer/free/?language=en&amp;params.poi.id=1652024" width="100%" height="600" frameborder="0" allowfullscreen></iframe>

Try this feature for free with a RouteYou Plus trial subscription.