Περιφερειακή Ενότητα Λήμνου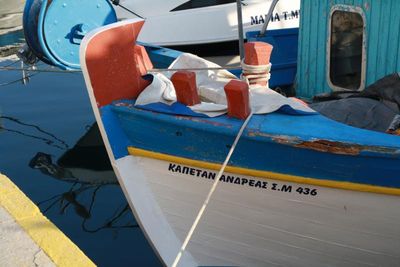 Have a look at the names of the old boats in the port. In most ports, you will see most of the old fishing boats named after saints. But not here... Frequently you will find a boat starting with the name "Captain". This does not refer to the captain of the boat, but to the leader of the old communist resistance group (dating from World War II and the Greek Civil War afterwards). A lot of inhabitants of Lemnos were old communists fighting for the resistance, and put on this remote island during the time of the military junta of Greece (1967-74). Some were sent to prison camps on the nearby island of Agios Efstratos (and tortured). You will notice that the communist party (KKE) is still very active here. So do't start a discussion about politics lightly here... And read a bit about the Greek recent history to understand the sensitivities and views.
Address
Myrina, Lemnos, Greece
More about this place of interest

<iframe src="https://plugin.routeyou.com/poiviewer/free/?language=en&amp;params.poi.id=1814406" width="100%" height="600" frameborder="0" allowfullscreen></iframe>

Try this feature for free with a RouteYou Plus trial subscription.