Περιφερειακή Ενότητα Λήμνου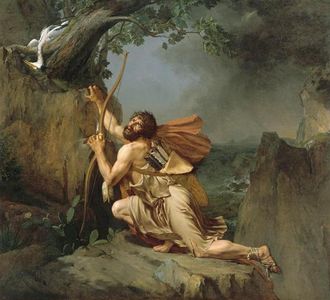 Source: Guillaume Guillon-Lethière
This cave is linked to the Trojan war. It was the place where Philoctetes stae for 10 years (or some versions say 12). Philoctetes was one of the many eligible Greeks who competed for the hand of Helen, the Spartan princess; according to legend, she was the most beautiful woman in the world. As such, he was required to participate in the conflict to reclaim her for Menelaus in the Trojan War. Philoctetes was stranded on the island of Lemnos by the Greeks on the way to Troy because he received a wound on his foot that festered and had a terrible smell. One version holds that Philoctetes was bitten by a snake. A modern interpretation of the cause of his wound is that he was scratched by a poisoned arrow. Commonly tips of arrows were poisoned with a combination of fermented viper venom, blood or plasma, and feces. Even a scratch would result in death, sometimes drawn out. A person who survives would do so with a festering wound. Regardless of the cause of the wound, Philoctetes was exiled by the Greeks and was angry at the treatment he received from Odysseus who had advised the Atreidae to strand him. Philoctetes himself remained on Lemnos, alone, for ten years, here in this cave. But at Tro, an oracle stated that one of the conditions of the Greeks' winning the war was that they needed the bow and arrows of Hercules, which was with Philoctetes. Upon hearing this, Odysseus and a group of men rushed back to Lemnos to recover Heracles' weapons. Surprised to find the archer alive, the Greeks balked on what to do next. Odysseus tricked the weaponry away from Philoctetes, but Diomedes refused to take the weapons without the man. Heracles, who had become a god many years earlier, came down from Olympus and told Philoctetes to go and that he would be healed by the son of Asclepius and win great honor as a hero of the Achaean army. Philoctetes challenged and would have killed Paris in single combat. Philoctetes was also among those chosen to hide inside the Trojan Horse, and during the sack of the city he killed many famed Trojans.
More about this place of interest

<iframe src="https://plugin.routeyou.com/poiviewer/free/?language=en&amp;params.poi.id=2507986" width="100%" height="600" frameborder="0" allowfullscreen></iframe>

Try this feature for free with a RouteYou Plus trial subscription.