Περιφερειακή Ενότητα Ηρακλείου
Author: pieterbeernaert80@gmail.com |
| | Public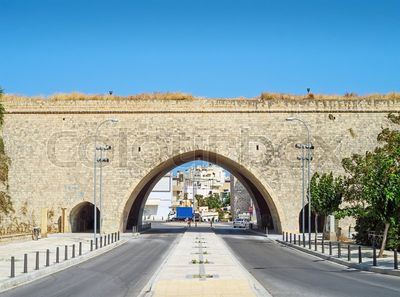 Gate Bethlehem is located on the western side of the Venetian Walls of Heraklion and was a military gate. It lead to the north low square of Bethlehem Bastion, where there were the cannons that protected the bastion of Pantocrator.
In recent years, the gate hosts the exhibition "El Greco - Return to Motherland", which consists mainly of costumes and objects used in the film El Greco of Yannis Smaragdis and is dedicated to the great Cretan painter El Greco. The report also includes reconstructed works of El Greco.
Read more: http://www.cretanbeaches.com/en/cities-and-towns-in-crete/heraklion-city/the-castle-of-candia/the-gates-of-candia/bethlehem-gate#ixzz53Jnxd4Q3
More about this place of interest

<iframe src="https://plugin.routeyou.com/poiviewer/free/?language=en&amp;params.poi.id=2890629" width="100%" height="600" frameborder="0" allowfullscreen></iframe>

Try this feature for free with a RouteYou Plus trial subscription.