Περιφερειακή Ενότητα Νάξου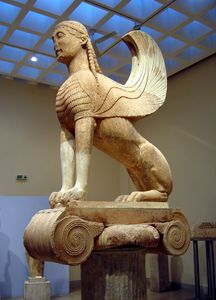 The original Sphinx of Naxos is now in the Archaeological Museum of Delphi. Its is a colossal 2.22 meter tall marble statue of a mythical creature with the head of a woman, the chest and wings composed of the impressive feathers of a prey bird turned upward, and the body of a lioness. The first fragments were excavated from the sanctuary in 1860, the remainder found in 1893. It was orignially set up on a stele around 560 BC as an offering to the temple of Apollo by Naxos, one of the richest Cycladic islands at the time. The overall height of the statue, the column and its base topped 12.5 meters.
Address
Naxos, Naxos, Greece
More about this place of interest

<iframe src="https://plugin.routeyou.com/poiviewer/free/?language=en&amp;params.poi.id=3101523" width="100%" height="600" frameborder="0" allowfullscreen></iframe>

Try this feature for free with a RouteYou Plus trial subscription.