Περιφερειακή Ενότητα Σποράδων
Author: Pascal Brackman |
| | Public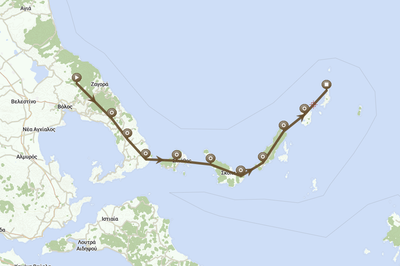 Expansion of the Aegean caused thinning of the earths crust, resulting in arcs of active volcanoes, firstly in the Northern Aegean, during the Miocene period. That trench runs north of Skopelos. The proximity of Skopelos to the Northern Aegean Trench, which is gradually becoming deeper, is the cause of the frequent earth tremors felt on the island.
8,000 years ago the Northern Sporades (Skiathos, Skopelos, Alonnisos, Kira Panagia, Gloura,...) were connected with the Pilion peninsula. Except for Skyros, these islands were probably attached to mainland Greece but may have been separated by a shallow, narrow strait. They formed a long narrow peninsula, possibly divided into two. 
For the geology of Skopelos, check out the website of Wild Flowers of Skopelos.
More about this place of interest

<iframe src="https://plugin.routeyou.com/poiviewer/free/?language=en&amp;params.poi.id=7440635" width="100%" height="600" frameborder="0" allowfullscreen></iframe>

Try this feature for free with a RouteYou Plus trial subscription.