Castellina in Chianti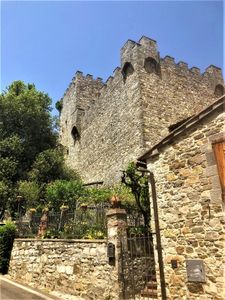 Source: Willem Vandenameele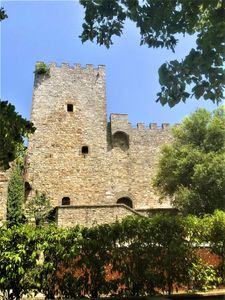 Source: Willem Vandenameele
As early as 1193, thanks to an agreement signed by the Trebbiesi, the castle was occupied by the Florentine army, and in the mid-twelfth century Castellina joined the "Chianti League" and subsequently became the chief town of one of the three "terzieri" (parts, the other two had as main cities Radda and Gaiole) into which the League was divided.
Throughout the Middle Ages, the Chianti area was the scene of battles and strife between the two powerful city-states of Florence and Siena. Located on one of the main roads connecting the two cities, Castellina was one of the most advanced Florentine strongholds and became strategically very important. In 1397 the castle was destroyed by the troops of the Duke of Milan, allied with the Senesi.
A few years later, in 1400, the Florentine Republic decided to strengthen the city's defenses with the construction of wider and thicker city walls, which had the shape of an irregular hexagon, interspersed with numerous square towers, endowed with two gates and crowned, on the highest point of the inhabited area, by a mighty rectangular tower with crenellated walls.
Much of the city walls, towers and a gate remain today (although in more places enclosed by modern houses). On the north side of the wall, the leaning of the houses against the walls has led to a special "sotterranea" (underground) street, the so-called "volte" (vaults).
The keep, which consists of two different parts, with a square shape and different heights, which are connected to each other, with its high curtains, is in perfect condition, thanks to an accurate restoration carried out at the beginning of the century, and is today the seat of the municipality. The lower part encloses the courtyard, the highest part is the real keep with a beautiful vaulted hall inside.
This mighty fortress suffered its baptism of fire in the year 1452 when it withstood for 44 days against the siege by the army of the Duke of Calabria. It seems that before that time the fortifications were re-fortified by the great Mediterranean architect, Giuliano da Sangallo.
Despite this, the castle capitulated to the attack of the Aragonese army in 1478 and, like the neighboring castles, it was looted and destroyed. In 1483 Castellina finally came under Florentine rule. In 1774 the Chianti League was dissolved, but the territory of the new "Community of Castellina", created with the reforms desired by the Granduca Pietro Leopoldo, coincided almost perfectly with the old "Terziere". The actual municipality is now located in the province of Siena.
Source: Willem Vandenameele
More about this place of interest

<iframe src="https://plugin.routeyou.com/poiviewer/free/?language=en&amp;params.poi.id=8307177" width="100%" height="600" frameborder="0" allowfullscreen></iframe>

Try this feature for free with a RouteYou Plus trial subscription.