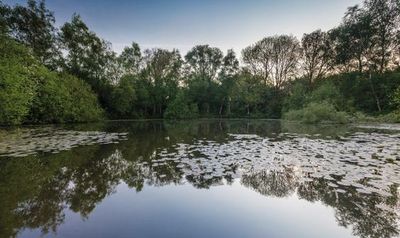 Copyright: Creative Commons
On the site of this now peaceful pond once stood the Spanbroek Mill - Spanbroekmolen in Dutch. The pond is a crater that was formed on 7 June 1917, the opening day of the great Mine Battle of Messines (a large part of which was also fought around the neighbouring village of Wijtschate). Twenty-three huge mines, containing tens of thousands of tons of explosive, had been dug under the German lines by the Allies. The plan was to detonate them all simultaneously at Zero Hour.
This had taken years of preparation, much of the work being carried out by Australian mining companies. The tunnel leading to this mine was begun as early as 1 January 1916. It was 571 metres long and the mine chamber - where the explosive was packed - was more than 30 metres beneath the German trenches. The 42 ton charge of ammonal created a crater that was 76 metres wide and 12 metres deep.
A small number of the mines failed to explode. In the months before the offensive, the Germans had carried out several successful counter-mining operations. This was one of the tunnels that they had discovered with their listening apparatus and they set off a camouflet - a counter-mine - to try and destroy it. Part of the roof collapsed and the Allied tunnelers had to work against the clock to get the mine ready again before the infantry attack. Here at Spanbroekmolen, they only managed to reconnect the charge on 6 June, the day before the infantry attack was due to start.
The plan worked. 19 of the mines exploded, the German lines were destroyed and the Allied infantry was able to advance a number of kilometres, capturing the villages of Wijtschate and Messines (Mesen in Dutch).
Copyright: Creative Commons
Address
Kruisstraat, Wijtschate
More about this place of interest
This place of interest on your website

<iframe src="https://plugin.routeyou.com/poiviewer/free/?language=en&amp;params.poi.id=747667" width="100%" height="600" frameborder="0" allowfullscreen></iframe>

Try this feature for free with a RouteYou Plus trial subscription.