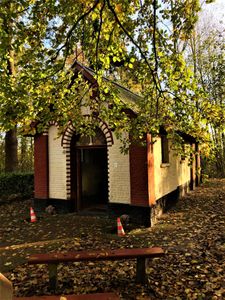 Source: WillemVandenameele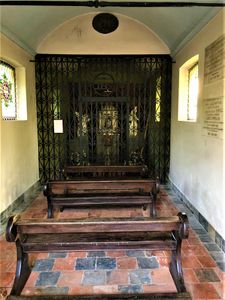 Source: Willem Vandenameele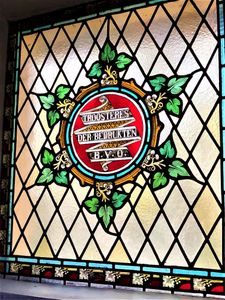 Source: Willem Vandenameele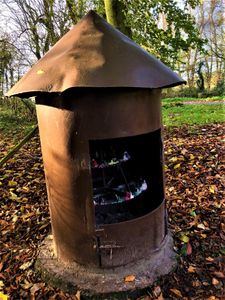 Source: Willem Vandenameele
It was mentioned as a place of pilgrimage as early as the 15th century .
Around 1865 the chapel was enlarged by order of the owners of Wijnendale Castle, the Matthieu family , and decorated as a memorial chapel in honor of deceased relatives.
There are several stories about the formation of the chapel.
The most widespread legend is a traditional Marian legend: According to this, a pious hand carved the wooden statue and placed it on an old oak tree in a chapel. When the tree was felled , the statue was taken to the parish church . However, the next day he found himself in the place of the oak tree . This happened a few more times until a chapel was built here.
Some refer to Maria de Bourgogne , who is said to have fallen from her horse there .
Others say that the chapel goes back to Boudewijn Hapkin. He would have built it because he discovered a spring there during a dry summer.
According to another version, two children were killed by highwaymen in this place.
There is a tradition that at the turn of the year people wish the Virgin Mary a Happy New Year .
On the day of the chapel festival , March 25th, many people go to Wijnendale. This day is popularly known as Onze-Lieve-Vrouwe "terd den tee(n)" . The name "terd den tee(n)" comes from an old folk custom in which farmer's sons met their summer sweethearts here and made a sign by standing at the feet of their loved ones: terd (step) den tee (tip of the toe).
Source: Willem Vandenameele - Wikipedia
More about this place of interest
This place of interest on your website

<iframe src="https://plugin.routeyou.com/poiviewer/free/?language=en&amp;params.poi.id=8429463" width="100%" height="600" frameborder="0" allowfullscreen></iframe>

Try this feature for free with a RouteYou Plus trial subscription.