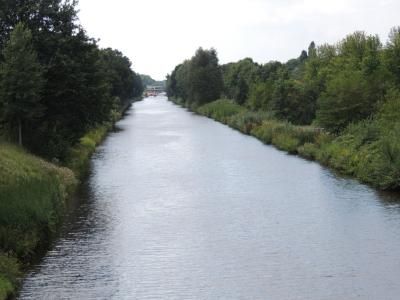 The first plans for a canal connecting Tilburg to the Maas date from 1794, but it took until 1910 until finally digging began.
In the course of the 19th century, the textile industry in Tilburg, now mechanized with steam, sought opportunities for coal supply and removal of products. The roads at the time were not suitable for transporting of coal and textiles. At the beginning of the 20th century the plans finally became concrete and in 1916 the first ship docked in Tilburg; however, it took until 1923 before the Wilhelmina Canal was completed.
The current Wilhelminakanaal and the locks are too small for the type of inland vessels that the business wants to use. That is why the municipality of Tilburg, together with Rijkswaterstaat and the province of Noord-Brabant, is going to broaden and deepen the Wilhelmina canal.
Upgrading the Wilhelmina canal is of great importance for economic activity in the municipality of Tilburg and the accessibility of the province of Noord-Brabant over the water.
Address
Oirschot
More about this place of interest
Try this feature for free with a MyRouteYou Plus trial subscription.